The Problem
William Adams have a large range of excavators and plant equipment for sale, hire and service.  They have two sites providing excellent coverage to the Melbourne CBD and surrounds.
Being able to present equipment to hire clients clean and professional is key.  Their own Service Department need to clean so as they can access parts and conduct servicing. 
They have to clean big, fast & cost effective when dealing with heaps of caked on clay and debris.

The Solution
Having used a Spitwater hot wash 3 phase unit before – they invested in a larger model to increase the water flow and pressure.  The SW2021 at 21 lpm and 3000 psi was just the right unit.  They also invested in using a 20 metre hose for ease of getting around the machinery without having to move the pressure washer.  Adding a foaming attachment for non-touch cleaning to allow their truck wash better time on the machine to assist in removing the grime.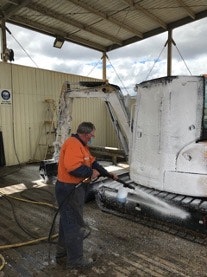 The Benefits 
With water flow being KING the increased flow that this machine has provided - wash bay times have come down by around 25%. 
Improved wash bay through put has allowed for increased machine hire units ready to go out with no hold ups.
The same solution was rolled out at both sites, making it easy for driver & operator to use the same units and set up when working at either site.